To ensure reliable data storage and fast data processing for hundreds of IP cameras simultaneously, a powerful software solution is required.
Here is a list of popular and in-demand features:
The mirroring function on multiple drives has been introduced in order to improve the reliability of video data preservation.
As before, one or more drives can be designated as a reserve. Recording new data on reserve drives can begin only if none of the main drives are available. At the same time, recording stops as soon as one of the main drives becomes available again.
Additional functionality is implemented in the Ultra software version, which allows you to preserve backup integrity in case of one or several drives failure. It is the duplication of drives. Mirroring can be done for one or multiple drives. Recording of video and databases onto mirroring drives is conducted simultaneously, with recording on the main drives of the server. Recording on supplementary drives will be carried out even in case of failure or any primary drive shutdown.
With large monitoring systems in such places as chain stores, manufacturing plants, and similar facilities, seamless control, monitoring, and operational analysis of large data volumes is required. The Video wall is used as a solution for these tasks. Currently, several options for video wall management can be available, utilizing KVM switches, specialized controllers, or additional software. All three options increase the cost for surveillance system implementation.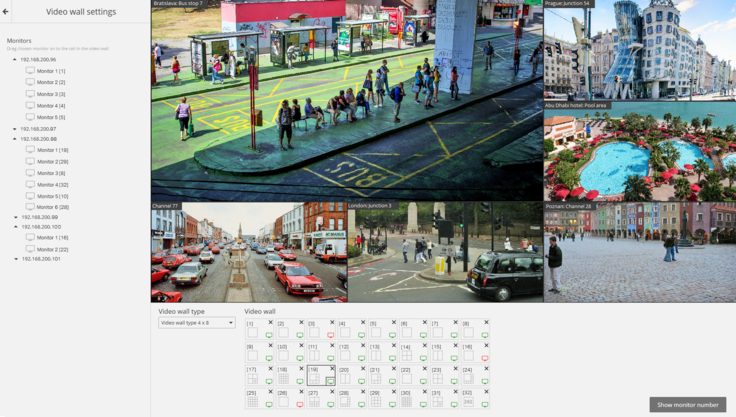 The developers of Ultra video management software have created a solution, which can help you build a Video wall without using any additional devices or software. Besides that, Ultra's Video wall's interface control is designed in such a way that it can help to configure workstations with any number of monitors, where you can interactively drag and drop an image from any camera to the desired monitor.
Thus, the integrator of a video surveillance system gains a convenient tool for the configuration of monitoring sites with lots of cameras. The end user is not overcharged for controllers and has a powerful video surveillance system, which makes instantaneous decision-making possible.
Events log with convenient filtration system
It is obvious that the larger the number of IP cameras in a surveillance system generates the larger flow of events. For example, in a system with 50 IP cameras, a few thousand similar events are registered in a log on a daily basis. Without any events filtration system, it is impossible to handle such a huge information flow.
Ultra's Events log or Journal implements a flexible filtration system based on users' priorities. So, you can select events generated by a certain user, system, or cameras and set up certain selection criteria: error, alarm, or any other event. In addition, with Ultra's Events log, you can work not only in archive mode but in a real-time mode as well.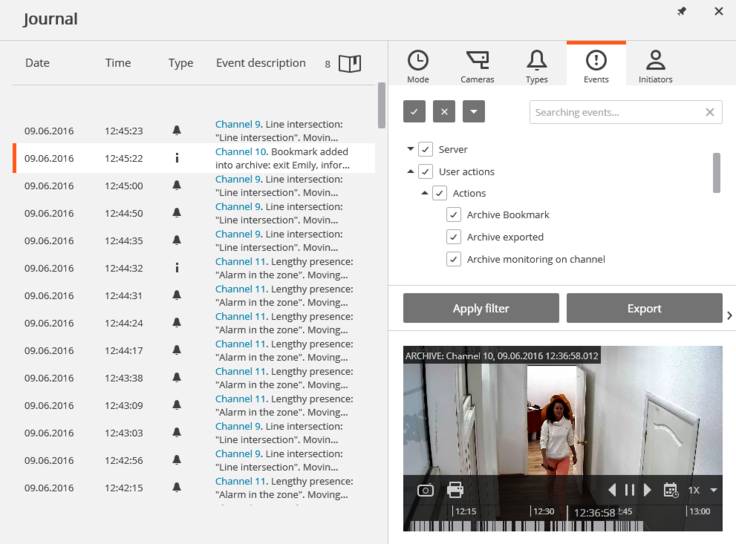 In Ultra's Events log can you easily access a specific event from an archive. You can also configure multiple windows of events log, and assign specific event types to a particular operator.
For example, in a store, one operator can observe the shop's entrance and perimeter, a second the staff rooms, and a third can watch the sales floor and cash registers. Each of the operators will receive an appropriate alarm from the events log.
Computing power optimization
Typically, there is no need to apply complex functions on small objects with little information flow. However, if your system includes thousands of cameras, the use of Analytics will significantly speed up the process. However, processing large data volumes can cause significant overloads of computing equipment.
Originally, Macroscop VMS was created from two basic ideas: The simple search of large data volumes, and the possibility of quick and efficient processing of visual information. Currently, both Macroscop and Ultra have a few developments, which allow you to optimize the use of central processors, reduce the computing power load, and minimize costs:
Analytical technology of compressing video streams from IP cameras without full decoding.
Processing of H.264 video format by mobile and web clients, which does not require transcoding of the video stream into MJPEG format on a server.
Partial processing of video streams on a graphics (video) card.
Universal searching tools
In a large video surveillance system, it is very time consuming to search for a particular person by date or time. Macroscop developers recently created a tool that allows you to track the movement of an object through a given territory, through the several IP cameras' field of view.
With Ultra software, the user can set parameters such as colour, size, or position on the screen, upload a sample from the archive or a picture of a moving subject. Search results within the viewpoint of cameras will be presented as a set of subject images matching specified parameters. In the next step, the user needs to choose a specific image and set it as searching criteria on all other cameras. If a subject moves into the viewpoint of several cameras, the user can follow a pathway of the movement on the site map. This new feature is an Intelligent module called "Suspect tracking".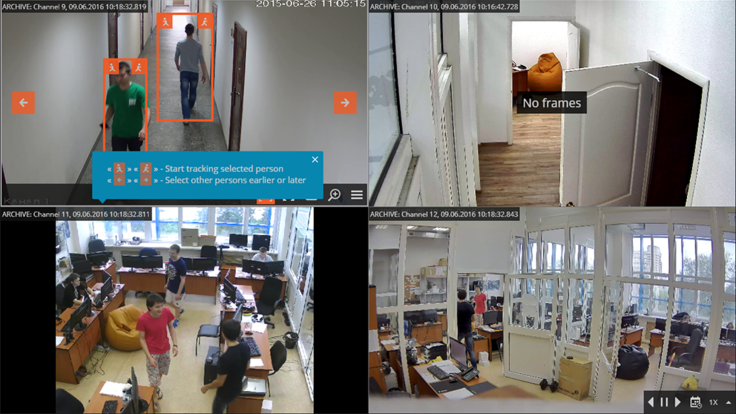 Cost-effective surveillance of large areas
Surveillance of large areas can be done using a dedicated IP camera like the Fish-Eye or Panoramic. Such cameras allow one to obtain a panoramic, 360-degree view or 16 snapshots of different zones, which turn one camera into sixteen and helps to reduce the number of cameras in the system.
The new functionality of Ultra and Macroscop software allows you to view an unlimited number of flat images instead of one distorted image.
Only one license for the "Fish-eye dewarping" Intelligent module is required for connecting a Fish-Eye camera to Macroscop. If you connect a single Fish-Eye camera, you can get several images from different viewpoints. Thus, on top of exclusive technologies in partial decoding, the processing of video streams on a graphics card, and the capability of h.264 format processing, Ultra's users have an opportunity to save money while building their video surveillance system.
Additional functionality related to the use of Fish-Eye cameras is "Virtual PTZ" function. This functionality makes it possible to conduct a step-by-step viewing of any area within the camera's viewpoint which is similar to using a PTZ camera.
The possibility of message exchange and system settings between users, called "Chat", has been released in the Ultra VMS.
So, if the "Attach current grid" option is turned on, it is possible to attach a channel grid to an outgoing message. You can choose and attach any channel which is active at the moment a message is being sent.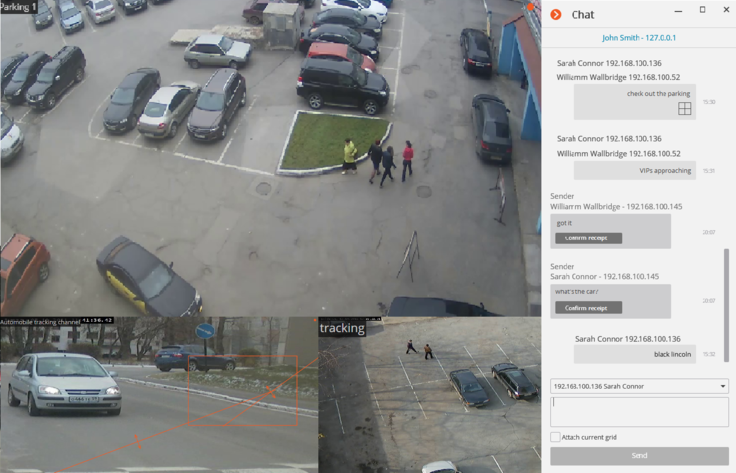 Internal chat is available only to users with the appropriate privileges which have been assigned by the system administrator. In order to work, the internal chart setting should be turned on for the desired workstations.
In addition to specific features and complex modules, the variety of Macroscop's functions are available in the Ultra IP camera software. Ultra is already included in the 'Best Buy' section of 'Benchmark' magazine, which is a monthly publication dedicated to driving innovation and smart solutions in the security industry.
The retail price of Ultra VMS is $249 per channel, with a minimum purchasing requirement of 50 channels. The official release of the 'Ultra' version will be on July 27th.