Retail stores are the most active users of video surveillance systems. The rapid development of retail chains calls for an introduction of modern monitoring tools in stores, which can not only provide monitoring and video archive recording, but statistics on a facilities' traffic, efficient use of retail space, and the staff activities as well. Modern software is able to address all of these tasks.
New features of video surveillance systems in retail industry
Macroscop software developers have expanded the possibilities of intelligent functions applicable for the retail sector. This was done for the needs of installers and video surveillance system users. New features have been added to already existing ones. The new People counting in the queue, Crowd monitoring, and the Heat map modules have been added to the already proven People counting. You can significantly increase the customer return rate per square meter of retail space and promote products more efficiently if you utilise these new intellectual functions in the video surveillance in your store.
Overall, the video surveillance system is no longer just a security tool. It becomes a staff management, marketing, and merchandising tool as well. Your store can greatly benefit and maximise its profits if Macroscop intellectual modules and the information obtained through their use are in place.
Heat map of the store traffic
One of the new features of Macroscop IP camera software is the ability to build a heat map of visitor traffic. This feature is useful for identifying the most visited areas and departments and determining the most popular shelves.
Macroscop's user can obtain a visitor movement map from the software interface. It shows a snapshot from the camera, where colours highlight the intensity of movement. A red colour signifies the hottest zone. A blue colour signifies the opposite or the least visited areas. Such analysis of consumer behaviour allows one to adjust a shopping area layout, as well as evaluate staff performance, the effectiveness of promotions, and to optimise the display of goods. In addition, shopping centres can recommend the most visited spots on the floor to their suppliers and maximise profits accordingly.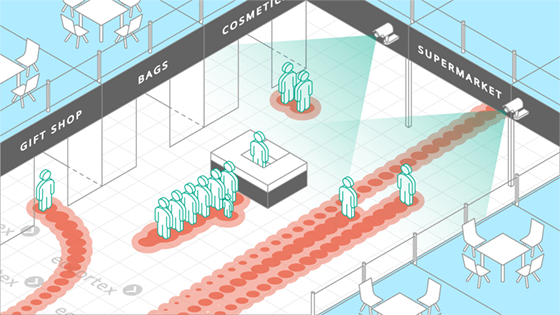 For example, Macroscop Heat Map module helps you to deal with this range of typical tasks:
determine the most attractive areas of your store
improve merchandizing
place promotional materials based on hot-spot zones
estimate the effectiveness of your promotions
make an experiment placing the particular product at different areas of the store and find the best one
review and optimize staff allocation
Queue length control
The queue length control at cash registers is an important task for retailers. Macroscop has developed a special function for queue length calculation. A video system operator can configure up to six detection zones per camera. He can also set-up a threshold limit of people per zone. If this limit is exceeded, it will trigger an alarm within the system. Management can obtain reports for a certain period of time for one or many zones, evaluate the cashiers' load, and the effectiveness of the cash register organisation.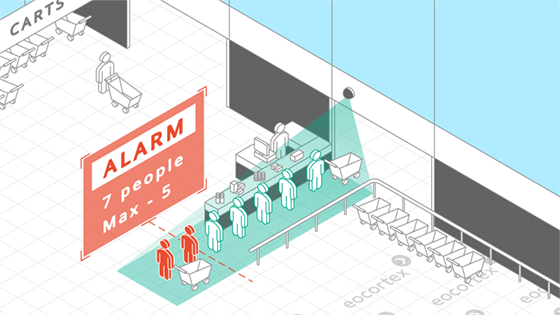 Macroscop People counting in queue module helps you to deal with this range of typical tasks:
monitor cash register peak hours - optimize staff allocation
prevent customers giving up their purchases as a result of overwaiting
determine the most overloaded cash register
promptly react to the queue's emergence
track the progress with scheduled reporting
Counting visitors in your store
The People counting function allows one to obtain statistics of store traffic and evaluate the efficiency of the staff activities. For example, if the number of visitors is large enough, but most of them do not make purchases, it is worth investigating and re-thinking the movement of customers on the store layout, assessing product displays, analysing "hot" spots, product range, and prices.
An operator can draw a virtual line in the video preview window of a camera and set-up the directions of entrances and exits. One camera can watch a few entrances simultaneously. The visitor counting function can produce statistics in real time and display the number of people who entered and exited during a certain period in a video preview window or on a table.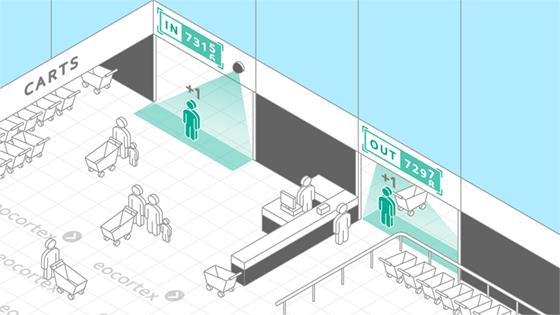 Macroscop People counting module helps you to deal with this range of typical tasks:
count visitors and analyze traffic
reduce queues and staff overload during peak hours
calculate the conversion rates
optimize working hours and marketing activities
compare statistics between several outlets
Integration with cash registers and Point-of-Sale video analytics
The cash transactions control module can be used to prevent cash losses and conduct investigations. Monitoring is carried out by registering cash events and text overlays from POSs to a video stream. It is possible to conduct an analysis of incoming data. Staff mistakes and offence detection is done through comparison of data from the accounting system with real actions, captured on video.
Macroscop Point-of-Sale module helps you to deal with this range of typical tasks:
prevent losses, reduce theft ad fraud at the cashier register
improve customer service
keep track on the suspicious events
prevent fake refunds and return
optimise cash flows of the whole retail chain
How to save on server's hardware
An active use of these analytical features requires powerful computing resources. This is especially true in large retail stores with many cameras. Macroscop exclusive developments help significantly reduce computing resource requirements and server hardware costs.
The use of video analysis of compressed video streams from IP cameras without full decoding increases the speed of data processing. At the same time, the CPU load can be reduced by 4/5 on average. This makes it possible to connect 4 times more IP cameras to the single Macroscop server. Another opportunity for savings lies in the use of less powerful and hence less costly CPUs, which reduces the cost of server equipment.
Save on technology of the data processing on the graphics card;
Save on technology of H.264 format video processing for mobile and web clients.
The right choice of software for video surveillance system allows one to obtain analytical data for store optimisation and save on computational resources.