The Eocortex company, a developer of IP video surveillance software, is getting ready to release the new, 3.4 version of its software suite.
One of the major smart novelties of Eocortex 3.4 is the capability to recognize people wearing medical face masks that is particularly relevant during the ongoing pandemic. The operator of the software can set the scenarios of the system's actions in case people with and without masks are detected (notifications, entries in a report, etc.).
Moreover, version 3.4 allows to identify faces turned away from the camera.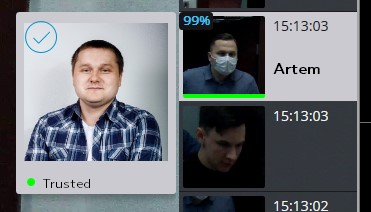 It is, however, necessary to bear in mind that the accuracy of recognition of faces without masks and facing the surveillance camera remains higher than that or the faces covered by masks and not looking directly at the camera, that is why the video surveillance system operator may specify the necessity to recognize such faces in the module's settings.
For example, if the face recognition system has been implemented for ensuring automated access control, disabling the recognition of masked and turned away faces may reduce the number of instances of false triggering. In case the module is set to search for infractors, enabling these options will allow to carefully select the required people in the crowd at the expense of the number of potential false positives.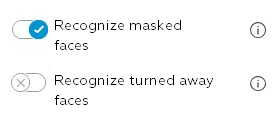 The new options allowing to recognize people wearing face masks and with faces turned away from the camera will be available to the users of Eocortex version 3.4 that will be released in July of 2021.