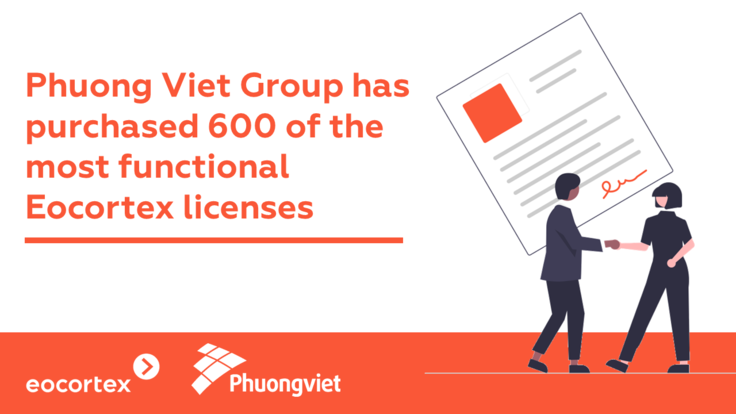 New partner of Eocortex intends to promote the software in large-scale projects
In Vietnam, Eocortex has initiated cooperation with a new distributor - Phuong Viet Group (PVG). For over 12 years the company has been selling software and equipment for security systems. Its branches operate in North and South Vietnam. PVG supplies high-tech products to more than 2000 partners - integrators, installers and end users of video surveillance systems.
Phuong Viet Group has purchased 600 of the most powerful Eocortex Ultra licenses. They include complex video analytics modules such as Face Recognition, Search for Objects, Shelf Fullness Check, and others. Users also have access to the full range of tools for working with large-scale video surveillance systems: video analytics server support, placement of cameras on GIS maps, multi-level administration, etc.
"In cooperation with Eocortex, Phuong Viet Group will become the most professional provider of security solutions on the Vietnamese market," said Mr. Dang Viet Phuong, CEO of Phuong Viet Group.
PVG noted the convenience of working with Eocortex - an intuitive interface, easy setup and ease of use of the software. According to the distributor's representatives, the software is planned to be promoted for large projects being implemented throughout Vietnam.
"Already at the start of cooperation, the PVG team showed high dedication and promptness of interaction. Sales staff, design department and technical support personnel underwent Eocortex commercial and technical training, 6 specialists were certified. Information about the product has already been posted on the distributor's website, the Marketing Department has informed partners about the new product in the company's portfolio: information about Eocortex can be found on the website, mailouts and posts in social networks have been made", said Pavel Okhotnikov, International Sales Director of Eocortex.
PVG and Eocortex have already planned a number of joint events. On November 11, the companies holded a large webinar, during which they acquainted the partners of the distributor with the capabilities of the Face Recognition module. An offline workshop will take place at the end of the year, where partners will be able to test various video analysis modules by themselves.