Eocortex team has released a new version 4.0. The updated version includes a number of technical improvements and optimizations, as well as new AI-based video analysis features.
One of the most essential novelties of Eocortex 4.0 is the Object Classification and Counting module. It сlassificates and counts 6 different object categories:
People
Animals
Vehicles by type: Passenger cars, Buses, Trucks, Motorcycles.
Analytics operates within 2 counting options, which is helpful for different business tasks:
Counting objects in an area. Users can set up areas of any size and forms for a specific camera view by dragging key points of the virtual frame.
Line intersection. The count of objects crossing the virtual line or lines in a specified direction. Position of the line can be changed manually by easily dragging it by the waypoints
Each object category count is conveniently displayed in the Eocortex Client, so users will see every object classification in the real time.
The user gets all data collected by the module in handy reports and statistics.
Report by zones. A possibility to build reports for one certain zone or for all zones simultaneously and get the number of people or other objects inside.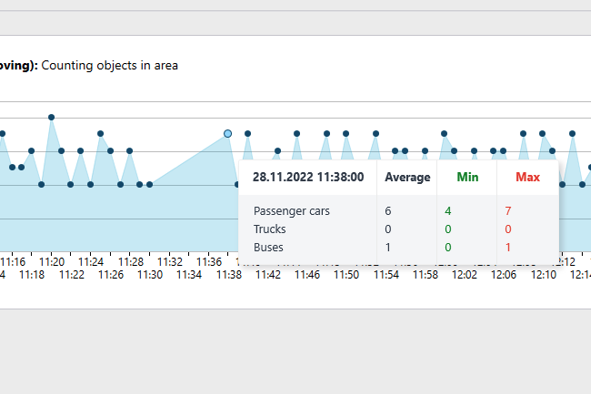 Line crossing report. Selecting one specific line or as many of them as the user requires. Getting a report on how many different objects crossed the line and at what time it occurred.
The significant perk to all this is flexible requirements for camera placement. Object Classification and Counting analytics does not require a strictly vertical view installation. That's why new features can be easily implemented into already deployed surveillance systems and used the existing cameras.
Eocortex 4.0 with the new Object Classification and Counting module will become available for purchase in the near future. Now everyone can get Eocortex trial version with new features included and feel all the advantages of Object Classification and Counting analytics totally free of charge.
Test Eocortex and get special commercial conditions for the first project implementation with the Object Classification and Counting module.
Leave a request for special conditions here: