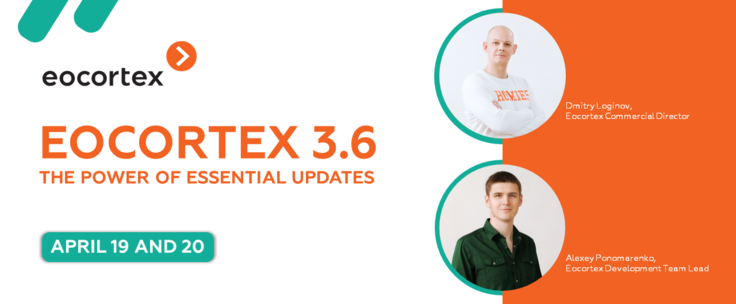 "Eocortex 3.6 - the power of essential updates!" — the awaited release of the version Eocortex 3.6, one of the most innovative software for video surveillance systems. A number of totally free of charge updates will become available to users to make their work with the system more efficient and convenient. Our company strives to respond promptly to the needs of the market and user requests by implementing the up-to-the-minute features.
What novelties await the participants?
The most innovative Eocortex modules have been improved. Find out what's new in the operation of Tracking, Search for objects and Face Recognition modules.
Now the License Plate Recognition module has the new ability to count the number of vehicles and their persistence in the parking area. See it in action right at the presentation.
For the user's convenience there are changes in the Eocortex client application and Configurator. Get to know why the Overview monitor feature makes the work easier and how Episode archive helps to manage archived data.
New possibilities are here for you with the new Eocortex Integrations. Improve your projects by using POS-terminals and Access Control Systems.
Technological innovations will be presented by:
Dmitry Loginov — Eocortex Commercial Director
This time the online presentation of the new version will take place twice!
Choose what time would be convenient for you and be the first to learn all about the new features of Eocortex 3.6:
Tuesday, April 19,

at 09:00 UTC

Wednesday, April 20,

at 04:00 UTC
The participation is free.
It is required to register.