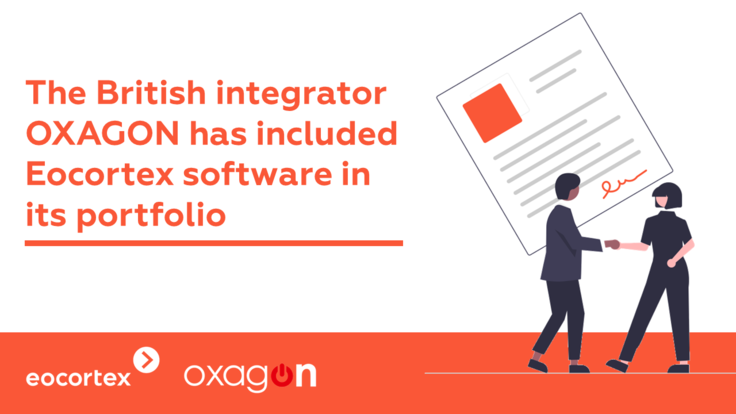 The company plans to implement several large-scale video surveillance projects in 2022
In the UK, OXAGON, a major integrator of video surveillance systems, has included Eocortex software in its product portfolio. The companies signed a partnership agreement in April 2021.
OXAGON was founded in London in 2005. The company performs a full range of work related to custom selection and implementation of the IT solutions for small and medium-sized businesses, starting from designing IT infrastructure at the facilities to ensuring cyber security. The goal set by OXAGON experts is to maximize the customers' business potential and make IT services a profitable investment. The company is a technology development partner for over 450 small, medium and large businesses across the UK.
OXAGON emphasizes that they work exclusively with the best equipment manufacturers and impose the most stringent requirements on vendors of the software due to the fact that it is the heart of any video surveillance system.
"It is through our constant strive to find the optimal combination of efficiency, functionality, integrity and value how we came across Eocortex.
And we had a perfect match. Our teams click on so many levels resulting in our partnership being flawless, simple and stress-free at all times. We rely on Eocortex fully and we plan to significantly expand our operations on mutual projects in the winter of 2021 and throughout 2022. OXAGON are ever excited with Eocortex VMS due to the constant stream of innovative features and improvements", said Krasimir Uzunov, Chief Operating Officer of OXAGON Ltd.
The representative of OXAGON noted that in 2022 the company plans to implement several corporate and residential real estate projects in cooperation with Eocortex, including the introduction of video systems with up to 500 cameras in residential complexes across the UK.
"Oxagon is an active and ambitious partner with a genuine interest in Eocortex solutions. By implementing IP CCTV projects based on joint Oxagon and Eocortex solutions, we plan not just to enter the UK market, but also to gain a foothold there in order to expand our customer and partner network", - says Pavel Okhotnikov, International Sales Director of Eocortex.
Eocortex sees great potential for development in the UK market since the United Kingdom is one of the world's centers of economic, political and cultural life