Eocortex, a developer of the intelligent video analysis software and BAS-IP, a manufacturer of door phone systems from Britain, have developed a system of non-contact door phones based on the deep learning neural networks. The new door phones and call panels are BAS-IP devices controlled by the Eocortex software enhanced with the intelligent modules.
BAS-IP "smart door phone" requires no keys and makes a decision about opening the door comparing the face of a person calling with the faces of people who have access to the premises. The neural networks ensure the recognition precision of 99%, taking into consideration large headgear such as ear-flapped caps as well as glasses, change of hairdo, and other factors.
The pilot project of implementing neural network-based door phone system is already completed in one of the largest commercial banks of Eastern Europe, where 134 BAS-IP AV-07B call panels controlled by Eocortex were installed.
– Thanks to the support of the SIP protocols, the Eocortex software installed on the door phone offers the same features as the one used in the professional CCTV systems on large enterprises, says Rustam Salimzibarov, the Software Development Director of Eocortex. – Now, the door phone can send messages regarding unwanted or, vice versa, important visitors to the smartphone of email of the owner of the property, recognize unique visitors and license plate numbers, determine traffic density, and even detect absence of hard hats on the heads of the employees, if required. To sum up, it will be difficult to bring a mistress home… or easier, depending on the system configuration, since no key is needed anymore to enter the premises.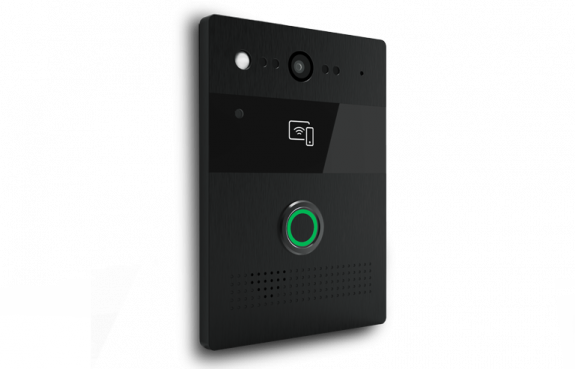 SIP stands for Session Initiation Protocol. The smart door phones with neural network modules are designed for usage in premium residential developments and apartments, hotels, mansions, as well as in office buildings, enterprises and areas of mass gathering of people with restricted zones.
Eocortex is a software package for creating intelligent IP video surveillance (CCTV) systems, video stream analysis, e.g. searching for a particular object or person on the recordings, detecting and recognizing faces, automating counting of people in queues, crowd detection, etc. The software is already used by the Ypres Police Department in Belgium, Italian Judicial Police, as well as such brands as Hugo Boss, Mövenpick, Hilton, LUKoil and many others in 55 countries worldwide.
BAS-IP ltd. (Great Britain) is an international company founded in 2008. The enterprise develops door phone systems based on the technologies of IP video surveillance and telephony.